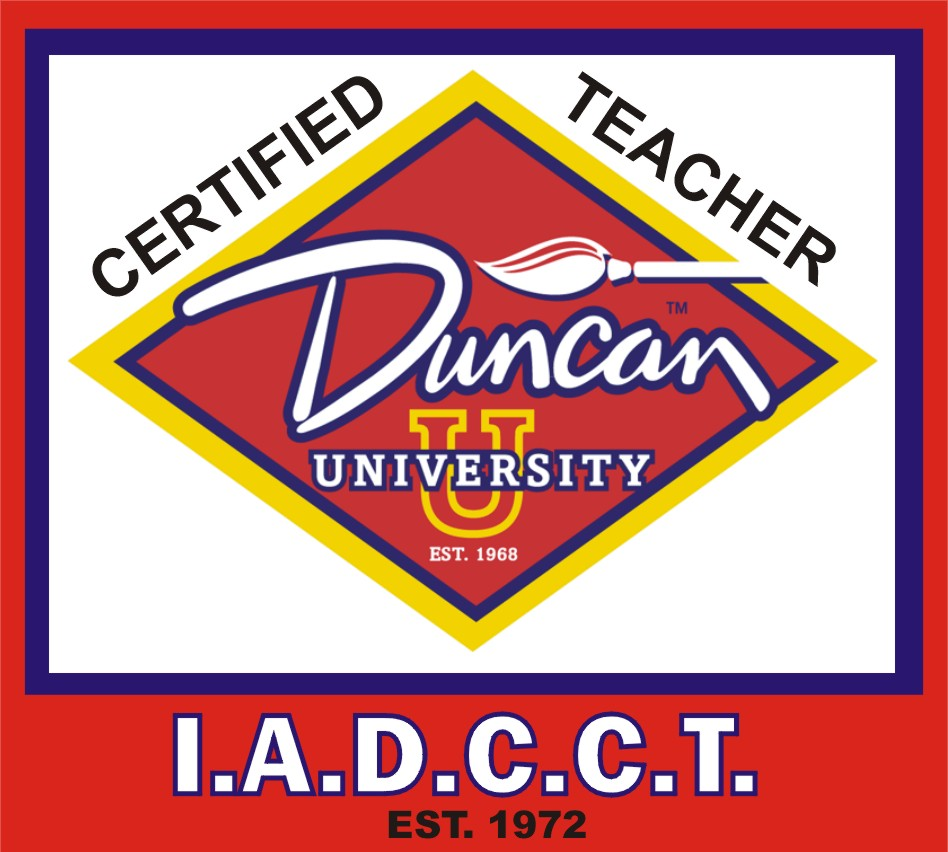 I.A.D.C.C.T.
History
The International Association of Duncan Certified Ceramic Teachers has a long and honorable history of serving its members and the ceramics community. Here is a look at the past and present of IADCCT...
First came NACDT (National Association of Certified Duncan Teachers, then IACDT (International Association of Certified Duncan Teachers). Those beginnings have evolved into today's IADCCT (International Association of Duncan Certified Ceramic Teachers), with members and chapters in countries around the world.
Cleo Curtis wrote the Ceramic Industry's first Certification Program. This Program began in 1969, with Cleo, the first Educational Director for Duncan Enterprises. She had a dream. With the certification of ceramic teachers she felt the need for an organization made up solely of Certified Duncan Teachers. The NCMA (National Ceramic Manufactures Association) held their annual show in St. Louis, Missouri and in 1970 she shared this dream with Duncan Distributors and Ambassadors. People left the show that year inspired, and came back the next year with ideas and support to begin work on the wonderful organization that has remained active ever since. The birth of NACDT became a reality in 1972.
We are proud that the purpose of IADCCT is to establish communication among the Certified Duncan Teachers, enabling all of us to share and benefit by the experiences of others. IADCCT strives to suggest and implement ways of being of service to local, charitable organizations and institutions, to establish and maintain ethical business practices, and to elevate the level of ceramic education.
Education
The annual convention held in Las Vegas each year, Regional Educational Programs sponsored by Chapters, plus a quarterly newsletter, constituted the bulk of our education program for members up to the year 1995. At each of these gatherings, education was offered by National Ceramic Teachers and Manufactures. Within the following years, the above have been augmented by the establishment of 3 new educational programs, adding even more benefits for our members.
Educational Showcase Programs
The "Inservice Program" was the first established. It is designed to encourage Manufacturers or businesses relating to ceramics to open their doors to our members and allow CDTs to learn about various facets of the industry. Companies typically offer tours of their facilities, a presentation of their products, answers to questions from our members and, hopefully, the opportunity for purchases. The first "Inservice" was held at Suncrest Manufacturing, Clinton, Utah, in 1996. Others have been at Duncan Enterprises, Fresno, CA; Laguna Clay Company, City of Industry, CA; Coaster Art, Phoenix, AZ; The Gladding McBean Factory, Lincoln, CA and F M Brush Company, Glendale, NY.
The second program established was our "Ceramic Retreats." These involve "members helping members;" they get together with the goal of added education. Participants teach each other techniques and demonstrate projects that can be passed on to students in their studios and classes.
The third program is our "Youth Service Project." Through it, we, the members, offer our knowledge and services in the ceramic field to any facility or organization devoted to children. In 2013 this Program was updated to "Service Projects for all Organizations" and includes groups of both youth and adults of all ages.
Education offered in these later years covers international and national manufacturer teachers or representatives, and many of our talented members. The annual conventions offer 5 educational classes/sessions plus Board and Chapter meetings. Regional Events sponsored by the Chapters offer from 4 to 5 educational classes/sessions.
Each of the above educational programs has been well received by our members, as evidenced by their growth in recent years. Each member who participates in any of the above programs, or the Regional Educational Programs, receives credits accumulated to various levels of achievement. They are recognized at the Annual Convention.
Quarter Century Club
The "Quarter Century Club" was implemented on our 25th Anniversary for members having maintained membership for 25 years. This club continues in membership due to the dedication of IADCCT members. A gathering of members is held the last evening of convention.
This organization is nearing its 45th Anniversary. A benefit and joy to all its members.